On November 5, 2020 the Ontario government released a delayed 2020 budget, Ontario's Action Plan: Protect, Support Recover. The budget outlines a number of actions that the government will undertake to support individuals and families in light of the unprecedented COVID-19 pandemic.
One of the ways in which the government is supporting economic recovery is by reducing electricity rates for medium to large commercial and industrial customers. This reduction is done through transferring approximately 85% of the non-hydro electric (i.e. wind, solar and bio-energy) related global adjustment costs from the rate base to the tax base (if you are confused or out of balance, its because those costs went from one pocket to the other!). This reduction in electricity costs is meant to make Ontario a more cost friendly jurisdiction in which to manufacture or set up new business operations.
Lower electricity costs should also lead to increases in consumption and demand which, with all things being equal, will increase the Hourly Ontario Electricity Price (HOEP) and reduce the Global Adjustment portion of your bill as the HOEP and the Global Adjustment are inversely correlated. Decreasing the Global Adjustment will also decrease the amount that the government is subsidizing through the tax base. So this is likely a good way to attract business, increase electricity demand and increase government tax revenue.
So what is the bad news for Solar Net Metering?
For those that are contemplating installing behind the meter solar generation, the benefit of doing so will decrease as of January 2021, and the paybacks of the investment just got longer. The government's budget suggests a 16% decrease in bills for Class B non-Regulated Price Plan (RPP) customers, but that 16% bill decrease budget is actually a 23% or 24% decrease in the Global Adjustment. From 2016 to 2019, Global Adjustment represented over 80% of the avoided cost or savings associated with solar net metering, so the reduction in savings associated with solar net metering is about 19% as of January 1, 2021 (see Figure below).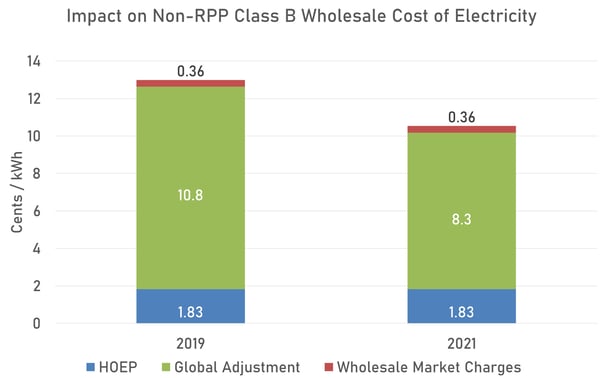 As shown, the avoided cost of the wholesale power of electricity in Ontario is estimated to decrease from $0.13/kWh to $0.105/kWh.
Why would I invest in Solar Net Metering now?
Despite the reduction in electricity costs, solar net metering continues to provide attractive, above market risk adjusted returns for businesses in Canada, not only Ontario.
This is due to the ongoing falling costs of solar equipment and the increase in solar module efficiency. With new solar modules announced as large as 500 W and 600 W per panel, savings on balance of plant (i.e. racking, wiring, labour) continue to be attractive. Further, the use of bi-facial modules continue to improve the production of solar panels in the right conditions. You can read more about that here.
From a tax perspective, a profitable business with a tax appetite can take advantage of the 100% Accelerated Depreciation in year 1, which means a 26.5% cost reduction for investing in solar. This was a change made back in 2018 at the Federal level.
These falling costs and tax benefits mean that a Solar investment in Ontario, even after a decrease in electricity rates can provide a 10 - 15% unlevered Internal Rate of Return (IRR) on capital over the 25 year life of the solar asset. Accessing debt at the current historic low rates, available to businesses and farmers, can increase this return to over 50% very easily.
Are you operating a profitable business that wants to hedge your future electricity costs, make an attractive investment and combat climate change? We are here to help.
Compass Energy Consulting
Compass makes renewable and clean energy a reality by providing expert and nuanced advice to decision makers. We provide detailed feasibility analyses so you have a clear understanding on the economic benefits of going solar today. We'll be your guide for all projects including Net Metering, Battery Storage and much more.
Compass has supported the development of over 1,000 MW of clean and renewable energy over the last five years. We're devoted to providing objective and nuanced advice on risks and rewards associated with renewable and clean energy installations. There's a reason that over 70% of our clients over the last three years have engaged with us on multiple assignments
Are you wondering if the economics of Solar make sense for you? We provide everything from basic billing analysis, to feasibility studies, to fully optimized system design. Contact us today to get started!