On April 22nd, Canada in conjunction with President Biden's Leaders Summit on Climate announced a new initiative to engage governments around the world in greening government operations, aiming to lead by example. Canada's new greenhouse gas reduction target under the Paris Agreement would be 40 to 45% below 2005 levels by 2030.
Between the Federal Budget's $17.6 Billion dollar allocation towards the Green Recovery Plan, and March's Supreme Court ruling the Carbon Pricing tax regime is constitutional, one thing is clear—Canada has demonstrated their commitment to green energy and taking steps to counteract climate change.
The 2021 Budget pledges to Focus on Green Recovery
A significant focus of Budget 2021 is the Government of Canada's intention to make Canada's COVID-19 recovery a "green recovery," incentivizing the private sector to develop clean technology — and heavy emitters to adopt those measures. Budget 2021 commits $17.6 billion (of the overall $101.4) in green stimulus measures for Canada's traditional industries, including its natural resources, manufacturing and energy sectors.
Without further ado, here a few highlights from the budget showing Canada's focus on green recovery:
Net Zero Accelerator
The Budget proposes to provide an additional $5 billion over seven years to the Net Zero Accelerator, which would allow the government to support projects to help reduce domestic greenhouse gas emissions across Canadian Economy. The funds are to be used to "rapidly expedite decarbonization projects with large emitters, scale-up clean technology and accelerate Canada's industrial transformation across all sectors" according to government documents.
This is on top of the $3 billion announced December 2020 when the Government unveiled their plan to reach net-zero emissions by 2050, bringing the total of Net Zero Accelerator to $8 billion.
Residential Support
The budget also aims at reducing emissions from residential buildings with a $4.4-billion program to provide homeowners and landlords with interest-free loans of $40,000 for "deep home retrofits." The money can be used for improvements like better insulation, energy-efficient furnaces and water tanks, solar panels and new windows, the budget says.
Manufacturer Incentives
Climate initiatives include a 50% 10-year reduction on corporate and small business income tax rates for companies manufacturing zero-emissions technologies, such as solar panels and electric buses, wind turbines, etc.
Federal Bond for large scale projects
It will also establish the first federal green bond with an issuance target of $5 billion. The goal is to attract investors to finance ways to fight climate change, like through green infrastructure.
Electric Vehicle Support
The budget promises $56 million over five years to work with countries like the United States on bringing in standards for zero-emission vehicle charging and refuelling stations.
Carbon Capture
Starting next year, Ottawa will give businesses a tax credit for carbon capture, utilization and storage (CCUS) projects — projects that negate emissions by drawing carbon from the atmosphere — with the aim of increasing Canada's annual carbon capture from four megatonnes to 15 megatonnes. The government will also spend $319 million over the next seven years on research in this area.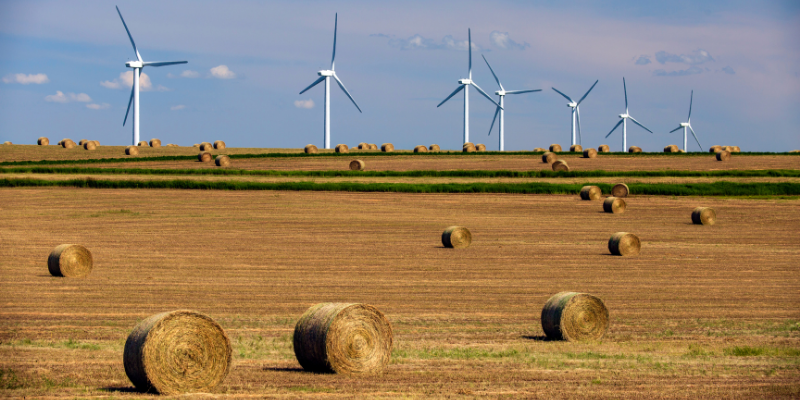 Canada's Carbon Pricing
Just this past March, the Supreme Court ruled the federal government's carbon pricing regime is constitutional. Under this carbon pricing plan, provinces that do not have their own pricing system in place are subject to a $40/tonne price on carbon that is set to increase to $50 in 2022, and increase each year until reaching $170 in 2030.
From this pool of money collected, 90% is sent back to Canadians in the form of a tax rebate. The remaining 10% is given to small- and medium-sized businesses, municipalities, Indigenous communities, universities, schools, colleges, hospitals, and not-for-profit organizations. This is to help those organizations that can't pass their costs from the carbon tax to end-consumers.
For perspective, a family of four will receive $600 in Ontario, $720 in Manitoba, $1,000 in Saskatchewan and $981 in Alberta, when they claim their Climate Action Incentive payment through their tax return this year. The intention is that the majority of families in these provinces will get more money back, with low-income families benefiting the greatest from this return.
At this time, five provinces and territories have their own carbon pollution pricing systems in place, with the federal backstop in full effect for four provinces and territories, and the remaining having a mixture of federal and provincial systems.
A Greener Future for Canada
While many of these initiatives are in their early stages, we'll be staying on top of them as they roll out. If you'd like to sign up for future updates and to keep on top of green incentives and opportunities for your home or business, sign up for our newsletter below.
---
Sources:
Annis, Kristyn. "Canada Announces First Federal Green Bonds As Part Of Its 2021 Budget - Environment - Canada." Welcome to Mondaq, Borden Ladner Gervais LLP, 29 Apr. 2021, www.mondaq.com/Article/1063192.

Ballingall, Alex. "Budget Bolsters Federal Climate Plan with $17.6B in New Spending." Thestar.com, 19 Apr. 2021, www.thestar.com/politics/federal/2021/04/19/budget-bolsters-federal-climate-plan-with-17b-in-new-spending.html.

"Budget 2021 Looks to a Low-Carbon Energy Future - Constructconnect.com." Daily Commercial News, 20 Apr. 2021, canada.constructconnect.com/dcn/news/government/2021/04/budget-2021-looks-to-a-low-carbon-energy-future.

"Budget 2021." Government of Canada, Department of Finance, 19 Apr. 2021, www.budget.gc.ca/2021/home-accueil-en.html.

Carl Meyer | News, US News. "Trudeau Vows Steeper Pollution Cuts at Biden Climate Summit." Canada's National Observer , Ottawa Insider |February 26th 2021, 24 Apr. 2021, www.nationalobserver.com/2021/04/23/news/trudeau-steeper-carbon-pollution-cuts-biden-climate-summit.

Eggerman, Chad, et al. "Budget 2021: Highlights for Canada's Energy Sector - MLT Aikins - Western Canada's Law Firm." MLT Aikins, 28 Apr. 2021, www.mltaikins.com/energy/budget-2021-highlights-for-canadas-energy-sector/.

"Supreme Court of Canada Rules on the Constitutionality of the Greenhouse Gas Pollution Pricing Act." Canada.ca, Environment and Climate Change, 9 Apr. 2021, www.canada.ca/en/environment-climate-change/news/2021/03/supreme-court-of-canada-rules-on-the-constitutionality-of-the-greenhouse-gas-pollution-pricing-act.html.

Tasker, John Paul. "Supreme Court Rules Ottawa's Carbon Tax Is Constitutional." CBCnews, CBC/Radio Canada, 25 Mar. 2021, www.cbc.ca/news/politics/supreme-court-federal-carbon-tax-constitutional-case-1.5962687.

Thorogood, Taleesha, et al. "Budget 2021: Opportunities for Energy in Transition." Fasken, Fasken, 6 May 2021, www.fasken.com/en/knowledge/2021/04/29-budget-2021-opportunities-for-energy-in-transition.

"What Is the Climate Action Incentive? Here's How It Affects Your Taxes." H&R Block, www.hrblock.ca/blog/what-is-the-climate-action-incentive-heres-how-it-affects-your-taxes/?gclsrc=aw.ds&gclid=Cj0KCQjwjPaCBhDkARIsAISZN7S9gkroQ8rp4PymjfTg-kbENu3XSsgkgNPX9G8MM5cpGLN3Sj3RHI4aApUTEALw_wcB.