Agrivoltaics is the co-development of agriculture and solar photovoltaics within the same land space. Ground mounted solar projects are commonly built in rural farmlands due to the abundance of relatively flat land. In fact, constructing solar panels on less than 1% of the world's cropland is enough to generate electricity for the entire planet.
What's most exciting is that the combination of PV and agriculture offers win-win outcomes across a variety of sectors, improving certain crop production, increasing the soil water retention, and reducing the maintenance of PV arrays. Best of all, it increases revenues for all parties involved. As solar farms expand in size and numbers across North America, Agrivoltaics helps to keep farmland in farm production while offering a number of mutually beneficial outcomes.
How is Agriculture Combined with Solar PV?
Solar Grazing
Solar grazing is the practice of allowing livestock to graze under solar panels, with sheep being the most common and pertinent solar grazers. Sheep enjoy eating many types of weeds and invasive species that can overgrow and cover panels, and are well suited for grazing underneath the panels where it is more labor intensive to mechanically mow.
Solar companies contract local sheep farmers to move the sheep onto the site in the spring, care for them through the grazing season, and move them off of the site for the winter. The shepherds provide water, monitor the health of the sheep and ensure vegetation doesn't become overgrown and shade the solar panels. The panels provide the sheep shelter from rain, wind, and direct sun on hot days, and the perimeter fence around a site contains the sheep and protects them from predators.
Less commonly, Cows can work well if the panels are raised high enough from the ground, however this can add additional costs to an existing project. Goats, not surprisingly, have been known to cause damage by climbing on equipment and chewing through wires.
Apiculture (Beekeeping)
There are three direct benefits to installing bee hives among solar panels (in addition to solar providing clean renewable energy to the area):
Restoration of the bee population and other pollinators that have been destroyed in recent decades by pesticides and other chemicals.
As pollinators, bees can have a positive effect on nearby crops (an estimated 35 percent of global crop production is dependent on pollinators).
Locally produced honey and the growth of the solar-honey industry.
More than half of native bee species in North America have seen their numbers drop sharply since 2005, with almost 25 percent now at risk of extinction. Installing beehives among solar panels is an easy-to-maintain value-add to a solar project. Industry supporters see the national, solar-honey market growing from 250,000 acres today to 3 million within the decade.
As an alternative to beehives, many solar sites have planted pollinator-supporting plants, such as purple prairie clover and wild lupine, that add acres of native pollinator habitats to support bees, wasps, butterflies birds and bats.
Crops and Vegetables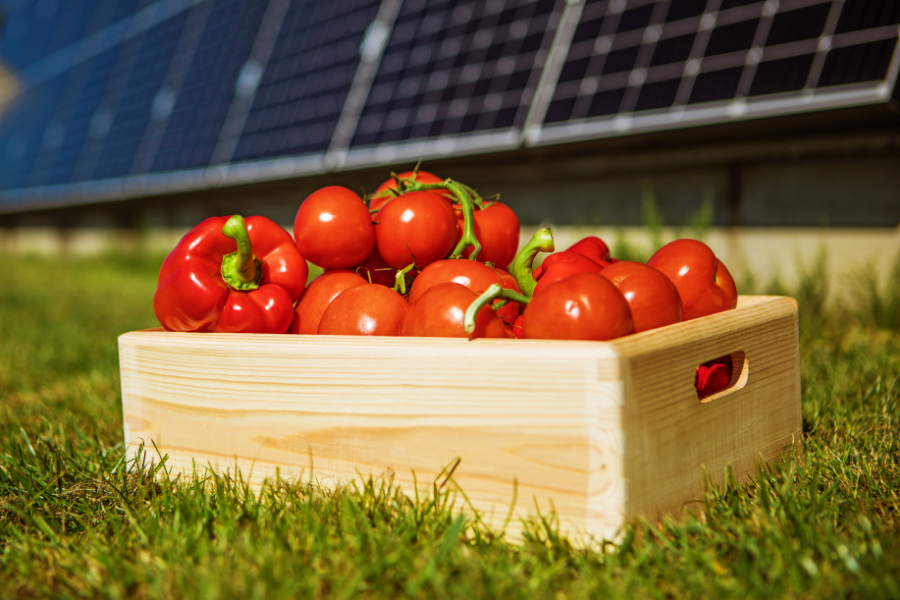 Some crops and vegetables thrive under solar panels thanks to warmer nights, less wind and greater soil moisture. There are many crops that grow well under shade. In much of Canada, salad greens and brassicas appear to be good choice while in other areas such as Arizona, hot peppers and cherry tomatoes benefited from the cooler temperatures.
On a droughty pasture, a study found that the soil under panels held moisture better than similar ground without panels. The soil under the solar array was 328% more efficient in terms of water use and late season plant growth was 90% greater under the panels.
There is still a lot to be learned from planting vegetables and crops among solar panels and the information varies greatly across different geographies.
Agrivoltaics Benefit Everyone
Solar Project Owners
Landowners have the benefit of generating additional income sharing the space with local farmers. Solar grazing reduces or eliminates the need for mowing at solar sites, reducing emissions and costs. A study conducted by Atkinson Center for a Sustainable Future at Cornell University, shows that Solar sites utilizing Solar sheep grazing require 2.5 times less labour hours than those that do not.
Farmers
With Farm incomes down across North America, agrivoltaics enable farmers to increase and diversify revenues without taking land out of food production. For farmers looking to add a source of revenue to their existing land space, solar panels can be an excellent choice. Not only do you increase the revenue generated on the available space, but you generate your own clean energy and offset the carbon footprint of your farm operations.
Alternatively, solar grazing off-site is a positive value-add to a sheep enterprise, especially considering that Farmers still market all lambs at the end of the season. Having sheep off-farm for much of the season affords the chance to stockpile forage or make hay, saving on feed costs.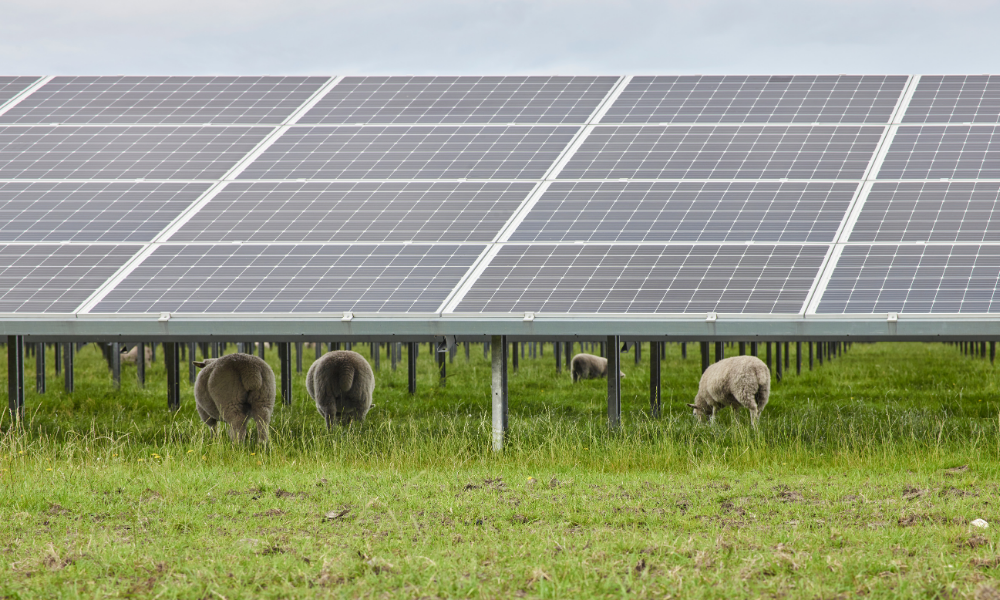 The Environment
For solar grazing, by eliminating the need to mow, emissions are reduced as well. Not to mention that increasing the amount of solar generation reduces the reliance on more carbon intensive energy sources. For vegetables and other plant-based Agrivoltaic projects, the solar panels provide a means to preserve moisture in the soil, reducing the need for watering.
The Community
Agrivoltaic projects contribute dairy, meat, vegetables, honey, and wool to the locally sourced, renewable farm market. In these primarily rural communities where solar projects are being built, many local residents are happy to keep the farmlands allocated to farming.
Active Agrivoltaic Projects in Ontario
Arnprior Solar
A glowing example of agrivoltaics in Canada, Arnprior is comprised of two adjacent sites west of Ottawa developed by EDF Renewables. The project provides 23.4 MWp of clean, safe and sustainable energy, meeting the peak energy demands of about 7,000 homes.
Combining three different types of agrivoltaic principles in the site's footprint, Arnprior is home to a monarch butterfly conservation project, a bee and honey project (five hives, each producing roughly 60 jars of honey a year), and a solar grazing/natural weed abatement pilot project.
The Arnprior project has approximately 50 grazing sheep onsite, saving EDFR around $30,000 per year on maintaining weed growth on the site. The herder loaning his flock of sheep also benefits by having a cost-free source of food for his animals. The design, engineering and construction of the project also employed approximately 150 local community trades, resulting in over $20 million in local procurement of materials, equipment and services.
Agrivoltaics help to keep farmlands in farming, and the success of the Arnprior Solar Project has already led major developers to pursue large-scale agrivoltaic projects in the future.

Kinghaven Farms
Kinghaven Farms is a thoroughbred horse breeding and apiculture (beekeeping) farm focused on ethical and sustainable practices. Kinghaven operates over 6500 solar panels at 5 different sites within Ontario totalling almost 1.8 MW DC in installed capacity. They own a combination of rooftop mounted solar as well as ground-mounted solar panels installed among their many beehives.
I want to add Solar to my Farm
We can help. Many farmers are tired of paying too much for electricity. Compass has supported the development of over 1,000 MW of clean and renewable energy over the last five years. We make renewable and clean energy a reality by providing expert and nuanced advice along with detailed feasibility analyses - so you have a clear understanding on the economic benefits of going solar today.
Solar remains a smart choice for Farm Operations. If you're a small business customer, you can expect paybacks of 5-10 years on a 25 year investment. If you're eligible to borrow from Farm Credit Canada, your payback could be even less than 5 years.
Are you wondering if the economics of Solar make sense for you? We provide everything from basic billing analysis, to feasibility studies, to fully optimized system design. Contact us today to get started!
---
Sources:
Anthony, Neal St. "'Solar Honey' Emerging as a Win-Win for Clean-Energy Proponents, Beekeepers and Farm Owners." Star Tribune, 25 Jan. 2020, www.startribune.com/solar-honey-emerging-as-a-win-win-for-clean-energy-proponents-beekeepers-and-farm-owners/567261782/?refresh=true.
Frenay, Erica. "Solar Grazing: A New Income Stream for Livestock Producers." On Pasture, 8 June 2020, onpasture.com/2020/05/18/solar-grazing-a-new-income-stream-for-livestock-producers/.
Hassanpour, Elnaz & Selker, John & Higgins, Chad. (2018). Remarkable agrivoltaic influence on soil moisture, micrometeorology and water-use efficiency. PLOS ONE. 13. e0203256. 10.1371/journal.pone.0203256,www.researchgate.net/publication/328681436_Remarkable_agrivoltaic_influence_on_soil_moisture_micrometeorology_and_water-use_efficiency.
"History and Legacy." Kinghaven Farms, 2020, kinghavenfarms.com/pages/history-and-legacy.
Kochendoerfer, Nikola, et al. "The Agricultural, Economic and Environmental Potential of Co-Locating Utility Scale Solar with Grazing Sheep."
ASGA - Atkinson Center Grant
, Cornell University, 2018, solargrazing.org/atkinson-center-grant/.
Neal, Abby, and Uma Atre. "Pollinator-Friendly Solar Installations Benefit Wildlife, Farmers, Climate." EESI, Environmental and Energy Study Institute (EESI), 16 Mar. 2020, www.eesi.org/articles/view/pollinator-friendly-solar-installations-benefit-wildlife-farmers-climate.